I receive slaves who wants to pay Me to be humiliated, tied up, beaten, kicked or would be tortured by Me.
For appointments, please call Me during office time at My fetish shop on: +3140-222206 and ask for Mistress Dewi

* Update :
Oktober 2016 > New pictures of My BDSM Studio in My Photogallery

Now you can also have double sessions with Me and:
- Mistress Jadore (young, slim, Indonesian and beautiful)
- My new TV Mistress (nice looking, slim and very expierienced travesty Mistress)
My slaves have to worship Me and be 100% faithful to Me!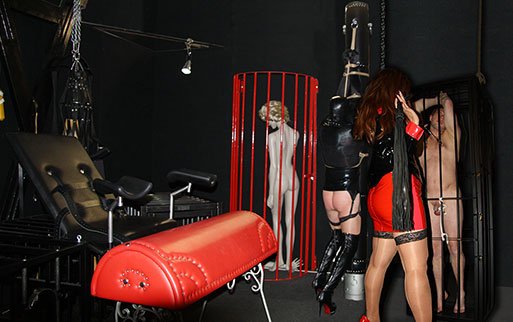 Do you want a Shibari session, caning, enclosure, chastity? Mail or call (with Caller ID only!) Me! I have a beautiful studio with many (4) cages, Turnable St. Andrew Cross, whipping bench, pillory, bondage chair, electric hoist, vacuum bed, a lot of other SM furniture and lots of cuffs, strong bondagefoil, rope and whips ....
My specialty is (Japanese) bondage and with My years of experience, you do'nt have to be afraid of misunderstanding or disappointment. I keep in mind if this is your first visit to a professional Mistress or if you're more experienced

My beautiful new furniture in My SM Studio.
New is my 250 cm tall whipping post. This post is all around with black leather lined and has both above and below adequate steel eyes to fasten securely to 4 slaves while they must undergo their deserved punishment.

I also have a solid stainless steel Bondagebed 200 x 90 cm with a lot of bondage eyes all around and underneath a sleepingcage, a rotating stainless steel St. Andrew Cross where I can turn you upside down so I can really do everything with you :-). Gynecologists chair on a solid steel puppycage and more naughty stuff to improve the lives of My slaves : D

If you only like Me to keep the key of your chastitybelt, just look here: Keyholding by Mistress Dewi-Fortuna

Come soon to take a look in my S&M studio and if you think you can handle that ....